Official Synopsis
Edit
"Welcome to Ponyville, home of Twilight Sparkle, Rainbow Dash, Rarity, Fluttershy, Pinkie Pie, Applejack, and all your other favorite Ponies! Something's not right in the town though, as some of the inhabitants are acting very, very strange! It's up to the Mane Six to find the source of the weirdness before it's too late!"[1]
Success of the comic
Edit
According to Diamond Comics' sales rankings for the year 2012, issue #1 is ranked 90th in total unit sales; in dollar sales, it's ranked 61th. It's also by far the best selling IDW comic in 2012.[2] In IDW history, the comic has beaten Godzilla #1 as the best ranked comic and it had the best selling launch.[3] Right now, the MLP comic is expecting it's fourth print.[4]
The first issue from the My Little Pony: Friendship is Magic Comic has a total of 20 different covers:
6 regular covers
1 subscription variant cover
1 retailer incentive cover
12 retailer exclusive variant covers
All links to the online shops provided in the list below are just examples where the comics can be bought. We don't get any money for linking specific websites.
Regular Covers
Edit
The six regular covers are drawn by Andy Price. Each of the covers feature one of the 'Mane Six' characters with some other popular characters in the background. All six of the regular covers merge into a big picture if put right next to each other. To make it easier to get all the different covers at once, IDW also published a boxset with all of the regular covers in an exclusive slipcase.
Subscription Variant
Edit
As with many comics, the My Little Pony: Friendship is Magic Comic also had a subscription variant cover. Every subscriber gets this special cover. Many online shops also sell them to non-subscribers. The cover itself is drawn by Jill Thompson and shows Fluttershy, Applejack, Rainbow Dash and Pinkie Pie with some 'evil' ponies in the foreground right in front of Twilight Sparkle's library.
Retailer Incentive Cover
Edit
For every 10 ordered copies of the regular comic, retailers will get this special '10 copy incentive' variant. Because of it's rareness, most shops sell it for a higher price than the regular ones and it might be harder to get one of them. This cover was drawn by Stephanie Buscema and it shows Pinkie Pie, Fluttershy, Rainbow Dash and Angel in Ponyville. The art style looks very similar to the original style of the show.
Retailer Exclusive Variants
Edit
A complete list with all 12 retailer exclusive variants including links to their online shops can be found right below this sentence. The covers can be found in the Issue #1 Gallery or in the All Covers Gallery.
Digital Release
Edit
The comic itself can be bought for mobile devices which run iOS or Android.
Cover Gallery
Edit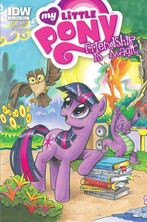 References
Edit