Official Synopsis
Edit
"Queen Chrysalis has returned! Our ponies have no time to horse around, as they set off to rescue their friends from Chrysalis kingdom. What magical adventures await them, and where the heck is Princess Celestia?"[1]
The second issue has a total of 14 different covers:
3 regular covers
2 retailer incentive covers
9 retailer exclusive variant covers
All links to the online shops provided in the list below are just examples where the comics can be bought. We don't get any money for linking specific websites.
Regular Covers
Edit
Retailer Incentive Covers
Edit
Retailer Exclusive Variants
Edit
A complete list with all 9 retailer exclusive variants including links to their online shops can be found right below this sentence. The covers can be found in the Issue #2 Gallery or in the All Covers Gallery.
Digital Releases
Edit
Other Releases
Edit
Retailers get temporary tattoos for ever 25 bought comics. Some shops listed this as another 'retailer incentive', instead it's just these rare temporary tattoos.
Cover Gallery
Edit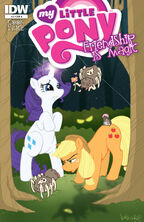 References
Edit
↑ IDW Solicitations for December 2012, Bleeding Cool, Retrieved on January 20, 2013.